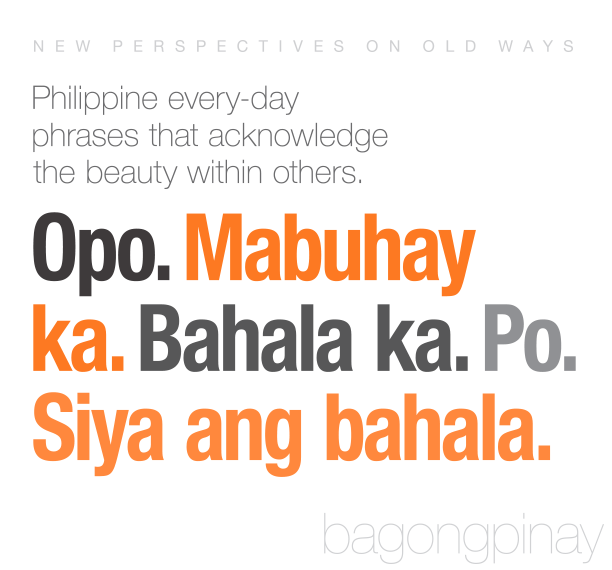 The following exploration is just me finding new meaning in old ways. Here are:
Philippine every-day phrases that acknowledge the beauty within others.
Po and opo are tagalog words and mostly spoken by younger folk to elders or superiors. Po is used to indicate respect, i.e., Magandang umaga po (good morning). Opo is a respectul way of saying "yes" and is a shortened version from the archaic phrase oo, poon which means "yes, noble one" or "yes, divine one" (see background info below).
According to Leny Strobel's Keynote Speech at FAHNS2014 who talked about Opo (13:33):
"Kapwa, according to Professor Felipe [Mendoza] de Leon, who is now the chairman of the National Commission and Culture and the Arts in the Philippines, also means "shared goodness and shared divinity."

In fact when we say "opo" to each other, you know, or to your elders, or as a sign of respect, it [it's from] "oo, poon." "Poon" means divine or god. "I respect or I recognize the divine in you." You see how beautiful that is? (You know) to see your kapwa as divine?"
Today, Poon is an honorific title used for divinity such as Poong Jesus Nazareno (Holy Jesus the Nazarene) or Inang Poon Bato (Mother of Revered Stone). With this understanding, opo and po, both related to poon, acknowledge another's soul in much the same way that the sanskrit phrase Namaste does (translated as "the divine light in me sees and honors the divine light in you").
Mabuhay ka is a tagalog phrase that translates to "you are life" the way maganda ka translates to "you are beautiful" or malakas ka translates to "you are strong." This is understood better when buhay is translated not just as "existence" but also as "life force/divine energy/spirit/qi/prana." With this understanding, mabuhay ka can mean "you are life energy."
Bahala ka is a widespread Philippine phrase that means "it's up to you, and hopefully things will come out fine." Bahala is derived from Bathala, the Philippine "supreme god," which in turn comes from the sanskrit word bathara meaning "noble lord." Bahala ka essentially means "you are divine spirit." With this understanding, saying bahala ka is like saying "act from your soul then things will turn out fine because you are aligned with a Divine plan and a Cosmic Intelligence."
Siya ang bahala is used in the third person and means "it's up to him/her and things should turn out fine." When said quickly it sounds very much like Shambhala—sanskrit for "place of peace/tranquility/happiness" refering less to a mythical location and more to the deeply hidden, spiritual center within all people. With this understanding, saying siya ang bahala acknowledges another's spiritual self and their intuitive knowing that guides their choices and aligns outcomes with God's Divine Plan and the harmony and balance of the Universe.
Thanks to Linda Nietes of Philippine Expressions who discussed the similar sounds between Siya ang bahala and Shambhala about 10 years ago in an old discussion board on yahoogroups.
What other phrases around the Philippines also have a deeper meaning that honors the beauty in people and the world. Please comment below and share.
Get printable downloads at my Botika Babae Etsy shop!