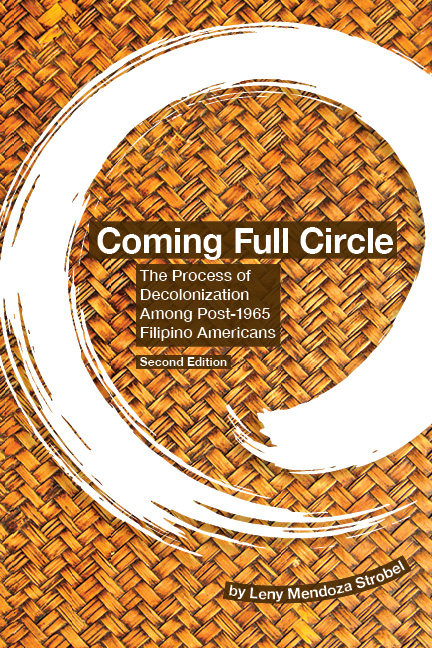 This post's title might sound like a presumptuous, tall order, but really, this book has had a profound impact on hundreds, and I don't doubt at all, thousands of Filipino-American psyches, including my own.
Leny Strobel's Coming Full Circle, the book that started my long sought-after healing of Pinoy identity, is now out in its second edition.
I met Leny, back in 1999, when she contributed an essay to BagongPinay.com, the then first online community for and by Filipinas. Later that essay evolved into the intro to her book, Coming Full Circle.
I'm excited to say that I not only helped Leny republish the new, second edition through Center for Babaylan Studies, I also designed the cover. My son Greg Daly also helped out by doing the print and kindle layouts.
The original first edition "beloved yellow book" was published in 2002 and the 2nd edition is newly released this January 2016.
Here is my 2002 review, published in The Ilustrado and at Amazon.com:
If you ever wanted to know more about certain Filipino quirks such as why there are so many Philippine mestizo movie stars and models ' or why many Filipinos believe that imported or "i-stateside" things are superior'or why there are Filipinos who are embarrassed to say they are Filipino' then this book could help you find out why. "Coming Full Circle" by Leny Strobel talks about the Filipino psychological handicap called colonial mentality. Better yet, this book tells a Filipino probable ways that one could cure colonial mentality in oneself if they ever chose to. For a Filipino, reading this book (even just parts at a time) can already help their mind detoxify from colonial psychological rubbish.

This is a brave book of a Filipino woman's study and exploration of the phenomenon of Filipino's lack of ethnic pride and the inability to articulate or manifest a strong sense of ethnic identity (colonial mentality) and the process of unlearning it (decolonization). The book is a ground breaking, significant contribution to Filipino community because it is a lucid articulation of the predicament and struggle within the process of finding Filipino identity—individual and collective, whole and healed.

Both Philippine and U.S. educational systems do not tell a complete story of U.S. colonial history in the Philippines, but by reading this book, I finally came to know more about it. Just a note, the Philippines was also colonized by Spain, but this book does not cover Spanish colonial history and influences. Still, this book is enough to better understand how colonial mentality came about.

The book gives concrete facts and terms to connect to what I have already been going through in my life when I tackled thoughts and concepts of colonial mentality, ethnic pride and individuality on my own terms since my Philippine university days in the 80s. I believe that many other Filipinos will also be able to make a few connections with the information and narratives in this book.

Leny Strobel's work is both scholarly and intuitive. It not only explains and informs on an academic level, but it also contains insightful thoughts, honest feelings and personal stories. The book illustrates expressions and appearances of colonial mentality through accounts of the author's and that of others. I found many of these people's experiences similar with my own and with Filipinos both in the U.S. and the Philippines.

Most significantly, the book talks about the process of decolonization not only in theory but also actual practice. Strobel recognizes that decolonization is a progression of healing and in the book we read that it is "a process of learning to love one's self again' of learning to face the truth and learning to tell the truth'learning to draw up the powers from the deep like before' going back to our roots'" and more. She cites ways for such wholistic self-recovery and discusses what she and the field study participants acted out and how these actions gradually pushed out the different manifestations of colonial mentality in their lives.

Strobel also helps the reader realize that the healing process is both an individual effort and a community one. She helps the reader recognize that there is a continual need to work on one's own identity while at the same time interacting within a social context. If you haven't already been aware, this book can point out to you how colonial mentality affects yours and others' choices and actions; how we each might share in each other's ignorance and silent incapacitation; and how we can affect each other's growth. Many times the field participants would share their own experiences of overcoming colonial mentality (by educational and/or cultural exploration) with their families, friends and peers and in turn their sharing would somehow have an effect on those they told.

Although Strobel's field study was done in the U.S., the material of this book is not only significant to Filipino-Americans. It can also be relevant to the Philippines and Filipinos in other parts of the world. And the academic discourse of "Coming Full Circle" cites concepts and works of Filipinos and non-Filipinos, and those that are published in the Philippines, the U.S., Canada and London.

Ignorance can make for complacency and cynicism. Knowledge is power. This book shares knowledge and stories. Consider new insight and strength when you know your facts and can name the identity struggles you're going through and discern how to get over it. This book can be an opening to a new way of looking at things. It can help you realize a way or ways that can become or already are part of your ethnic identity process.

A Filipino who comes to be centered within his identity and self, will want to know more and DO more, for his or herself and for others. This is the path of the brave Filipino.
—perla daly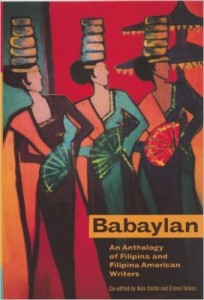 The CFC book cover is the 5th one I've done for Leny Strobel. She and I have had a long-standing relationship since we met in 1999. Actually, Eileen Tabios is the one who introduced us.
Back in 2002, I still had not met Leny in person. It was all collaboration via email when she had contributed the essay to bagongpinay.com since 1999. Then, in 2002, I was in the middle of reading CFC, and then struck by the content and the intense feeling that this needed to go interactive online, I emailed Leny begging to talk to her in person. We connected right away, and that night we talked late into the evening. From this came the start of the pagbabalikloob yahoogroup discussion group in 2002.  Later we also opened the babaylan yahoogroup in 2003.
Between those online discussions and my art work for babaylan.com, and the networking I did through bagongpinay.com, later I organized the FAWN2005 Filipina women's leadership conference, at New York University, with the Babaylan as an underlying theme. After that Leny wanted to do another conference, which came about in 2010, along with it was the founding of Center for Babaylan Studies.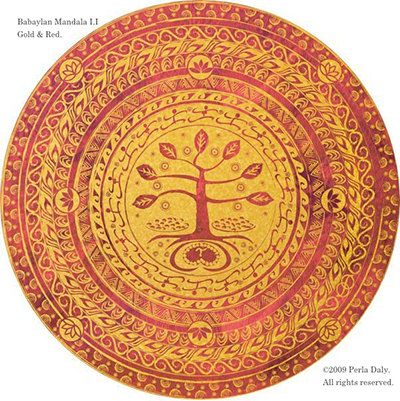 So many things, art, words, friendships, events, discoveries, lessons, have come of this book and our friendship. I am amazed to think how much has happened since Leny and I first met in 1999.
With the healing of my identity as a Filipina, I stand strong in knowing how colonization and westernization play in my life and at the same time I embrace my ancestral traditions and the people of the Philippines. With this I have become so much more creative and active in service to kapwa. I have wholeheartedly immersed myself in Sacred Interconnection—pakikipagkapwa.