greetings
---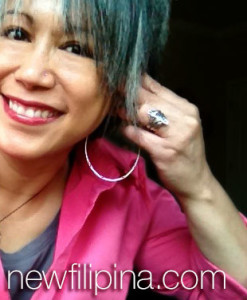 Hello and welcome to my blog BagongPinay or NewFilipina.com. 'Musta na? Maayo gid tani. (how are you? Fabulous, I hope). 
I started publishing newfilipina.com in 1998. "15 years?" you ask. OMG, oh my gulay, YES IT IS! It was the first big filipina site on the world wide web way back when…  And it was really fabulous. Filipinas were so happy to find a site for and by Filipinas.
"And how old is this silver-streaked Pinay?" you wonder as you glance at my pic. Well, I was 35 when I started newfilipina.com—so you do the math. 😉
Soooo, newfilipina.com has evolved over all these years.
1998 – newfilipina.com was THE first website for and by Filipinas (really!). It was a comprehensive community site that had discussion boards, art, poetry, features and columns by a handful of other fabulous Filipinas, and this site managed to give a wide Filipina audience, around the world, a pioneering, ground-breaking site that was inspiring and very different from all the other sites out there during that era (mail-order=bride sites and, ugh, sex tours sites).
2006 – newfilipina.com evolved into my personal blog because I started a new Filipina community site at Pinay.com.
2013 – newfilipina.com gets a big design refresh.  I've added new great quote graphics to pretty things up and to go with some really, terrific new content. AND I finally figured that I should share all of my other blogs and websites (a conference, a new organization, several different blogs on Philippine culture and tradition) that I've worked on or been a part of since newfilipina.com took off all those years ago. Come to think of it, newfilipina.com started it all!
So i hope you get a chance to check out this blog and to view all my other works online via the above menu.
So how did I get started with newfilipina.com and all these blogs and sites? Well at the top of this page I mention that back in 1998 and the early 2000's, Filipinas were very happy to find newfilipina.com. I'm not exaggerating. Really, because back then it was a time when most other web content creators were male and the internet audience was also mostly male, so many sites during those early days were published and targeted to males… the result was that almost all websites about Filipinas, I found during the early years of the world wide web, were mail-order-bride, sex-tours and porn sites. Here's the intro I wrote for  "Creating NewFilipina.com and the Rise of Cyberpinays,"  in the pinay power anthology:

…i began using the internet in 1991. in 1995, having lived away from the philippines for [9 years], i began to check out the web and to use it to reconnect with my roots. this is when i found www.filipina.com, a web site whosehomepage title was "mail-order-brides from the philippines." i was stunned and upset…

then hoping to find better websites [with features written by filipinas about filipinas at home and abroad], i did a yahoo! search for the word filipina but became further disheartened when i found numerous site results that were just the same thing—filipinas looking for foreign pen pals, friends, and husbands.

my dismay grew into horror when i also found many explicit websites about philippine bar girls, sex tours, and pornography. i was miserable at how these sites used filipina within their domain names…'

—

excerpt from "

creating newfilipina.com and the rise of cyberpinays

," by perla paredes daly in 

pinay power

, edited by melinda de jesus.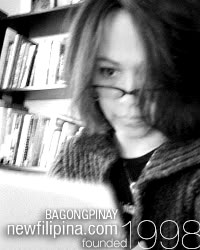 Obviously, I'm Filipina. And like many filipinos, I and both my parents are considered pure filipinos although we have spanish or chinese blood in our malay "
indio"
 lineage. Most filipinos would call me 
mestiza filipina
, and if i were still that girl-brainwashed-by-commercialism-and-colonialisms, i would lift my chin with programmed-pride and dully think something of it. But that colonized-twit is gone now, and at this point, what really counts for me is that i am proud to be a Filipina. Regardless of narrow-minded 
stereotypes
 that are out there. Regardless of the disappointment in how difficult it has been for our country to improve its economy quickly.
I believe that my ancestry, family karma, and personal dharma has brought me to a certain point in not only my journey but also within the evolution of humanity… i believe that my pagka-filipino and my womanhood are major filters in my soul's experience as a human being…
In the world as it is today, I see myself as a global citizen since I have grown up in both the U.S. and the Philippines, and my outlook on nation, humanity and spirituality is a mix of cultural perspectives plus hard-won insight to the human experience for spiritual beings…
when I was 10, my mom, a widow, moved us all—her, me and my brothers—from California to the Philippine islands, to join her family, the Ramos clan, in the little city of Bacolod. We were balikbayans during the 70s when martial law was going on. I was of course, different—speaking halting ilonggo with an american twang (you can imagine the teasing and sometimes even mean-ness) at the all-girls-school of St. Scho (where i learned the mechanics of being a goody-two-shoes), but otherwise I really loved my school and the nuns and my classmates and I was quite happy in my new-found Philippine life, friends and big, really big, extended family.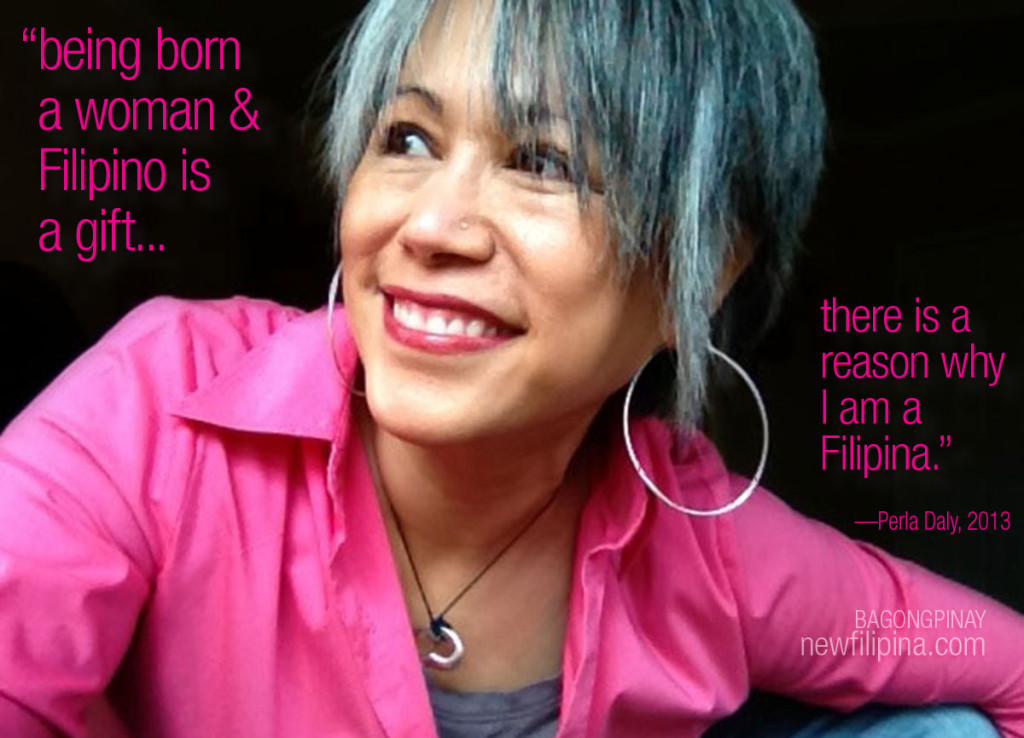 Then later, during my college days in the 80s at Ateneo and U.P. Diliman, just a couple of the Manila hotbeds of student activism, I became a subversive, reading forbidden books and demonstrating against the crimes and dictatorship of Marcos and his dynasty and getting very into the "search for filipino identity" and the examinations-&-rantings against colonial mentality, militarism and imperialism, the offsprings of the ancient nightmare that patriarchy can be.
So on the outside, with my corporate day job and home in the suburbs, I may seem a conformist… but on the inside, I am still a radical, spiritual activist.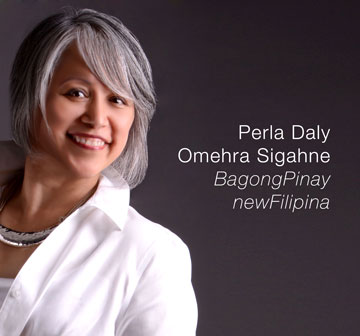 My interests? Not necessarily in the following order they are: glass art, gardening, reading, painting, blogging, pinning, yoga, Bahala meditations, baybayin jewelry design, babaylan explorations, identifying limiting beliefs and crippled thought from colonization and patriarchy, family, web publishing, filipina and filipino identity and empowerment, sacred feminine, women's circles, digital art, filipino indigenous spirituality, feminine divine, traditional ritual, meditation, prayer, contemplation, crop circle art, writing, spiritual prose poetry, drum circles, dream journeying, dream interpretations, God/Goddess/AllThatIs, Space, science fiction, Angels, Earth's heart, vegetables, existing outside of dogma.
What the-worldly-powers-that-be tell me is still not enough. I'm a filipina still asking questions… still seeking answers.
(or its just all an illusion of my ego-based self)….
More details about me here at my bio page.