In the early 90s, I quit my job as an art director to become a full time mom. To prevent boredom, I began a quest to be Martha Stewart. Or some imitation of her. This created silly notions of Super Mom for me and I had to be busy. Busy, busy, busy. Cooking, crafting, mothering and still learning about web design. I became stressed, filling up all my hours of the day. Sleeping very little. And not eating so well either.
A personal call to God
One fateful day in the 1996, I said outloud in my prayers, "Dear God, help me to become closer to you." Little did I know that my spiritual journey would no longer just be along the guidelines set by the Roman Catholic religion practiced long and faithfully by my family. I was now on a personal spiritual quest that took me into mystical experiences — dream quests, drum journeying, Sacred Feminine, and later, the spiritual beauty of my Philippine ancestral beliefs.
Yoga as a tool and practice
The first new door of deeper spirituality opened up for me in 1997 when I started going to the local health club and I met my first yoga teacher Lara Azzarito Ward. Luckily enough she was very good. So good she later trained many yoga teachers in New England and opened up Lotus Gardens Yoga School. One of the most lovely things about Lara's classes was how she taught us the beauty of the yoga philosophy—things such as compassion, non-judgementalism, and non-violence(ahimsa). I won't get into it in detail, but I will say that yoga is not a religion. Yoga is truly a way of living.
Anyway, to reduce the stress from the silly busy-business of striving to be the "perfect mom" I took up my first yoga class with Lara. It was a gentle yoga class. I was hooked. Gentle yoga was so nurturing and healing for me that even my mother saw a difference. (My mother lived with our family in a bedroom-living room set-up we built for her downstairs.) Whenever I was stressed and cranky at home my mom wouldn't say "you're stressed and cranky" she would just say "you better go to yoga class." Ha!
First mystical experience
I had the first mystical experience of my life in Lara's yoga class. After a lovely hatha yoga class, we ended with a 15-minute relaxing savasana. As I lay there on my comfy mat in what's called "corpse pose" I had become so relaxed that I spontaneously settled into a theta brainwave state—I had a waking dream. Tears streamed down my face as I quietly lay there on my mat, with bright sunshine gently streaming in, experiencing such joy and bliss, and witnessing my first vision. I won't go into details, but I will share that the lucid dream represented the opening up of my crown chakra—the uppermost chakra that connects ones thoughts to the next level of spirit. Before that time, I had never had a lucid dream before.
After 7 years yoga influenced my life so much that I got my 200-hour RYT Training. During the first 10 years of yoga study, I learned so many beautiful things. I even learned more about Philippine culture. To hear the Filipino words in yoga class such as guru and mukha was intriguing. I knew I needed to learn more and that it would reveal something about my Philippine heritage.
Sanskrit words and meanings
One of the first things that yoga taught me is the meaning of Shanti which is "peace" and how it was said in a way similar to "peace be with you" of my Christian upbringing. I was also struck how "Om" is chanted in such a similar way to how "Amen" is sung in latin masses or by nomads at the end of prayer, traveling between the middle east and far east on the silk road. I learned that there is a Universal spirituality and beauty between religions of the world.
In the 1990s, I was captivated by the phrase, "We are not just human beings having a spiritual experience. We are spiritual beings having a human experience."  I didn't know why yet. This is the reason why I was moved by Namaste which translates as "the divine light in me recognizes and honors the divine light in you." Learning this opened me up to the heartfelt knowledge that we indeed are not just human beings but that we are spiritual beings experiencing human life.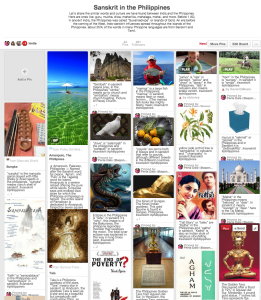 Philippine words from sanskrit
Again because of yoga, I begun to be keyed in to the beauty of my Philippine heritage in different ways , ways that I never took notice of before. Such as the many words in the Philippines that come from sanskrit. Mahal, Bathala, guru, mukha and salita are just some of the words that come from historical sanskrit influences. I've been so fascinated by this to the point that I  created a pinterest board called Sanskrit to the Philippines.
In the early 2000s, my friend Linda Nietes, owner of Philippine Expressions noted something about two Philippine phrases and shared in a private discussion board on yahoogroups. The first was "siya ang Bahala." She noted that when this phrase was said very quickly, it sounds very much like "Shambhala" which means a sanskrit term that means "place of peace/tranquility/happiness."
Deeper meaning to Philippine Phrases
As I write this post, I note that when siya ang Bahala is spoken in the Philippines, it is usually said about a third person and means "it's up to them" or "they will figure it out" and their is a connotation of releasing control and letting events unfold as they will without attachment or judgement of outcomes. Interestingly enough"Bathala" in the Philippines means "supreme god" and "bahala" is a derivative word. Bathala,  in turn is a derivative of the sansrkit word "Bathara" which means Lord.
Siya ang Bahala
Moving on to examine the hidden but actually literal meaning of siya ang bahala the words actual translate to "he/she is god" or "he/she is divine." (Siya by the way, is a Philippine pronoun that is not gender specific.) So when Filipinos say siya ang bahala or "its up to them" or "they'll figure it out" there's actually the unspoken cultural, spiritual acknowledgment of another person's divinity and his/her connection to some inner knowing that things are going to turn out just fine or that things will turn out the way that thing's are supposed to turn out. Ha! Understanding siya ang bahala in this way does, in fact, allude to the sanskrit meaning of Shambhala as an inner place of peace and tranquility—one from which a person can make sound decisions that is in harmony with the Universe!
Interesting isn't it?
Mabuhay
Here's another one that Linda pointed out. Another Philippine saying is "Mabuhay." Mabuhay is a word that when roughly translated in a western way makes "mabuhay si so-and-so" mean "long live so-and-so." But Linda says that the word mabuhay is really said more as a blessing. She pointed out that because the word buhay means not only life, as in existence on earth, but also life force or life energy, that means when Filipinos say "ma-buhay ka" they are actually saying "you have life energy," "you are full of life force," or "you have Chi." She noted in our discussio group that saying "mabuhay ka" is a way Filipinos acknowledge the divine in others the way the namaste greeting does.
Oo poon
And I now have one more to share. It was something that was shared recently by Leny, one of my closest friends. She's not just smart, she's also kind. And as it turns out, she is also a groundbreaker and pioneer in teaching pagbabalikloob, kapwa and the beautiful core values of the the Philippine people to Fil-Ams and to american students. Last year kapwa was the theme of the FANHS 2014 conference held in San Diego and Leny was the keynote speaker.
One of the best things i got out of her keynote was this [13:33] :
"Kapwa according to Professor Felipe [Mendoza] de Leon, who is now the chairman of the National Commission and Culture and the Arts in the Philippines… 'kapwa also means "shared goodness and shared divinity."'

In fact when we say "opo" to each other, you know, or to your elders, or as a sign of respect, ["oo" means "yes" and so] it [comes from] "oo, poon." "Poon" means divine or god. "I respect or I recognize the divine in you." You see how beautiful that is? (You know) to see your kapwa as divine?"
"Opo" is a phrase acknowledging the divinity in others!
Yes, dearest Leny—it is so beautiful. I am so grateful for what you open my eyes to. I learn more and more that the core values of my people are so beautiful. I want the world to know too. And thus my art and my websites are so much more enriched and inspired because of what you reveal to me. Thank you for your friendship.
It's fascinating to revisit mundane sayings in the Philippines and to realize that they really have deeper, beautiful, spiritual meaning.
Near the end of her keynote Leny tells the conference hall [39:40]  that in 2006, in a conversation between Mindanao indigenous elders and Filipino-American teachers, when asked how they could help, an elder Manobo woman answered simply, "Please allow us to express our beauty." "She did not say 'please give us our land back, give us freedom, give us justice, give us democracy, give us money.' She said, please allow us to express our beauty. And I think that's the most beautiful thing… that what we could do is allow each other to express our beauty."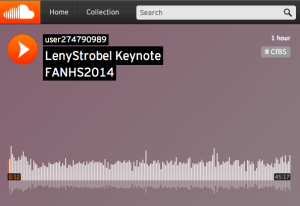 Luckily, I recorded Leny's keynote intending it for myself on my phone. And since the quality was decent enough, I gave the sound file to Leny and she just now uploaded it on SoundCloud. Click the soundnote graphic above to her her keynote speech. It's enlightening, funny and you can listen for free!