"Balay-balay" is a Visayan term that means children playing house. "Balay," pronounced with the last syllable rhyming with "fly," means house in the hiligaynon language in the Philippines. I created a Balay-Balay pinterest board full of neat home decorating and organizing ideas.
I'm not big on decorating-in-action anymore as I no longer have the time or the extra money. I pine over colors to paint on my walls but with so many hobbies and making more home cooked meals then ever, I just don't have spare time. And now that I'm trying to start my own publishing ventures online and in print my finances are tied up. But every now and then, once in a blue moon, I still can hit a homerun in the home decor field without putting out money. This is one of those times.
It all started when I first saw my yogini friend Kristina's cool bohemian bedroom colors and decor. It was with complimentary colors of Mediterranean blues and canary yellow in south asian fabrics. I instantly fell in love with the style — and promptly got bored with my room's plain white walls and white matelassé coverlet.
Since then, I dreamed up something that would look as pretty and appealing in my room. I surfed through the products of online Indian stores… but disciplined myself to not click any buy buttons.
It turns out with patience and experimentation, I could gather up old things to achieve my very own bedroom bohemian chic. I rearranged my couch pillows, found things from boxes and closets—findings and purchases I already had, from over the years and had forgotten about.
Last month, I also found an old blanket in my shelf that had gotten stuck there when I hastily unpacked linens from moving boxes. I found 3 of these beautiful blankets in a very unique store in New Milford, Connecticut. It was an antique store very much like Anthropologie in its early days when it sold one of a kind pieces, exotic fabrics and linen, and antique furniture from far away lands. It was over 10 years ago that I went to that store so much so that I've forgotten it's name and it has since closed. But it was right next to the Elephant's Trunk on route 7.
Anyway, here now, finally, after months of combining old belongings together, little by little, I am happy enough with the results and ready to share them with you.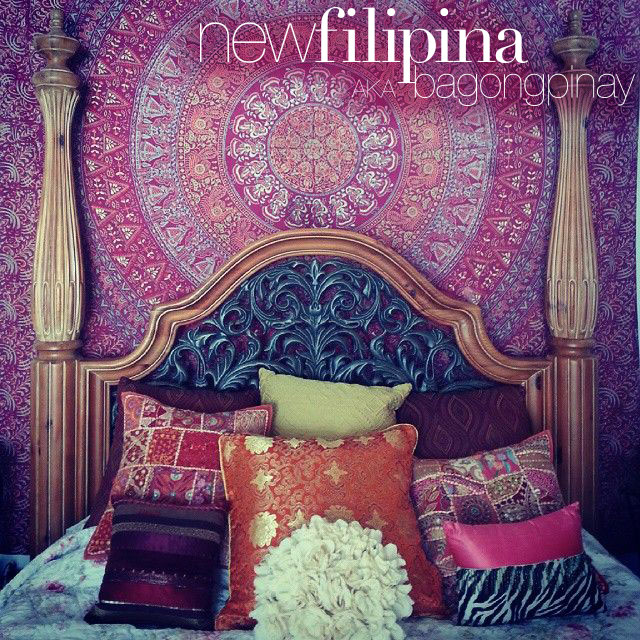 Hope you like and maybe have ideas you can share too!