The Healthy, Happy Holy Organization describes the purpose of a spiritual name:
A spiritual name is a vibration and a tool that helps to elevate your energy through the power of its nadh (inner sound current), and through the divine essence of its meaning.  It is your spiritual or soul identity.  It challenges you to live in your highest consciousness and helps you progress towards your ultimate destination.  Making the choice to receive a spiritual name is taking a step toward leaving old patterns behind and connecting with your infinite self.
When I first heard about people and friends tell me about their spiritual names, I didn't feel the need for my own.
It was years after my spiritual practice that one day, I felt ready to receive my spiritual name. At first I researched on how to get one. I even connected with a Kabbalah consultant on finding one. I didn't like any of them! So I shelved it for a year. Then one night, before I went to sleep, I whispered to the Universe. "if I am supposed to use my spiritual name, please reveal it to me, dear God/Goddess/AllThatIs. May my guardian angels and the archangels help me find it for my highest good and to serve others' highest well-being."
I got Siga in my dreams that night. Siga means "light" in ilonggo. "Isiga na" means "Light it now" or "light it up now."I knew this was supposed to be the second name. And I didn't think it was a coincidence at all that the I was publishing a tagline "shine, Pinay, shine" at Pinay.com. And that I practice energy healing, light visual meditations and what is called lightwork.
So that morning, after contemplating on "siga na,"  I said inside my head "Alright Universe, you gave me the 2nd name, so what is the first name?" That night I dreamt of the deep sound of "Ommmmmm" and heard Omera. I found out that this is a female Arabic name and it means "inspired one who enjoys having a positive attitude."
It was taken with how the word described my positive personality. As a kid the mantra "tomorrow things are going to be better" is what carried me through the dark painful times of my childhood. These hardships strengthened me for what was to come later I life. Sometimes, I'm so upbeat that it gets on the nerves of my grumpy friends and husband.[chuckle].
Strangely enough, the Universe gifted me with a happy, positive attitude. I easily smile. It comes from a feeling of lightness and delight from deep within. When I meet people my first reaction is to smile. Since I was a kid I was always quick to smile. My childhood teachers and friends always commented that what they most remembered about me was my smiling face and bright disposition.
Funny how all my life I have been in families with depression and darkness looming in the hearts of my loved ones. But I've always wanted to look at the brighter side of things.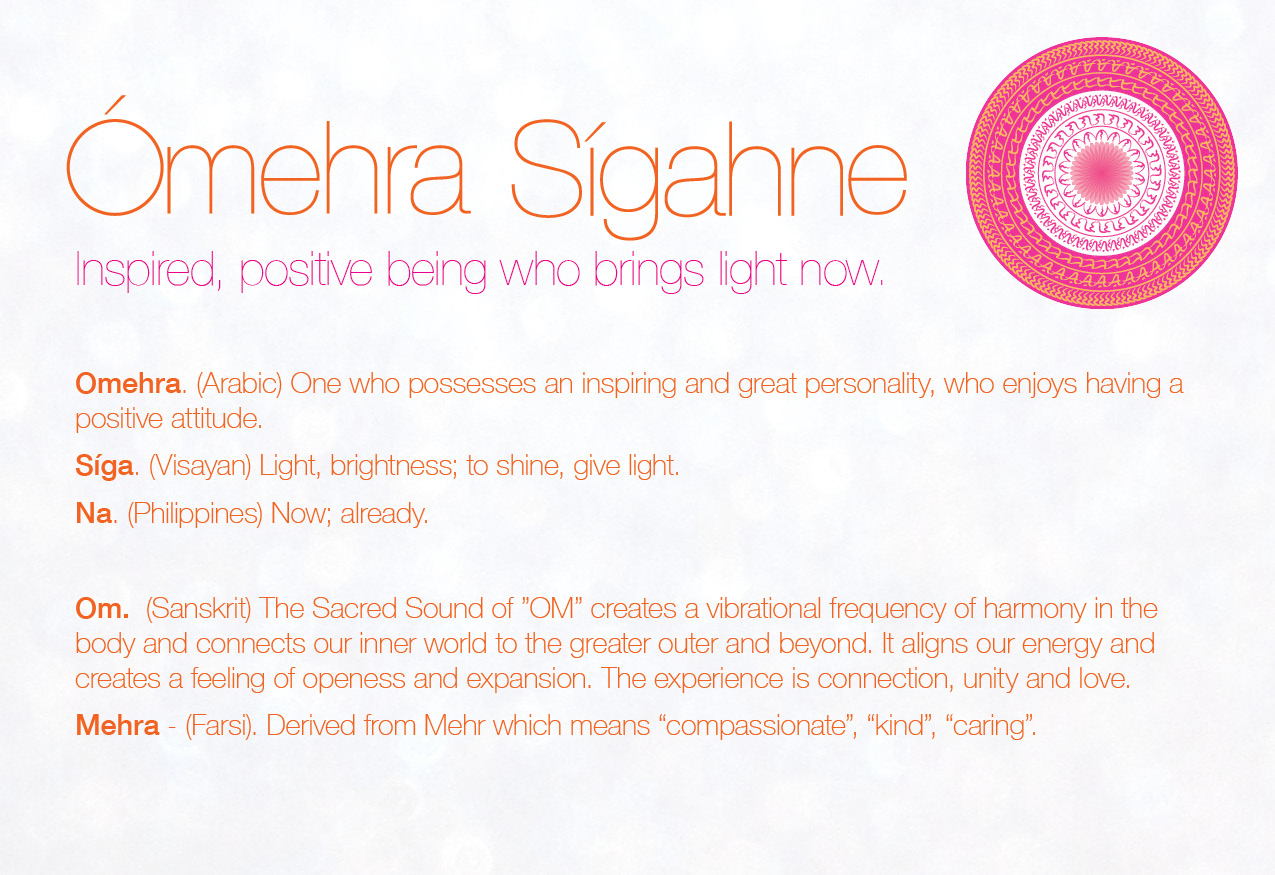 By the time I became a mother with young kids, I decided to learn light work or healing energy. I wanted to use healing energy and Light in my art, writing, and in my meditations. And it had finally come to the point that as I was publishing Pinay.com as a website with a theme of Pinay shine and Liwanag (light).
So for a name that means turn on the light? Hoo gid! (Heck, yeah!)
As soon as I received my spiritual name and embraced it, things started to happen: I got notice that I was being laid off from my corporate job. I began studying and planning for a new career. We began planning a move to the Philippines. We sold our home. We downsized and began selling and giving away half of our belongings. My old life began to disassemble to be reaassembled… I found a new meditation and lightworker community in Austin, TX. My dreams began to yield spiritual lessons. My intuition got stronger. I got more insights or gut feelings about things. I began to have quick inner visions with symbolic meanings and hints of future events in my life to come.
Whatever a spiritual name is about, it's having an impact for me. Exactly how 3HO describes it:
It's your spiritual identity.

It's an opportunity to leave the past behind and live consciously.

It's a tool or road map to your highest destiny.

It's a blessing to be continually reminded of your unique soul and your relationship with the Infinite.

It's a rebirth in consciousness.

It's life changing.
Kindly call me Omehra Sigahne from now on.