The Babaylan Mandala has been adapted by the Thirteen Indigenous Grandmother's Council retreat event.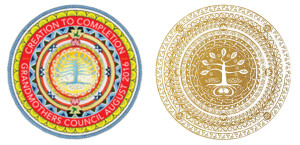 With this new rendering, through symbolic art and soul, our Philippine Lolas and the Babaylan are joined with The International Council of Thirteen Indigenous Grandmothers. I have given SPECIAL permission for the Thirteen Indigenous Grandmothers Council to use a revised version of the Babaylan Mandala BAHALA NA TREE in their new conference logo. Their artist has done a version with 13 branches to represent the 13 indigenous grandmothers of the world.
I have requested them to not put the logo on merchandise and sell them since Center for Babaylan Studies only raises funds with the Babaylan Mandala through posters and cards.
They have agreed to share the meanings of the BAHALA NA tree and the Babaylan Mandala with the 13 Grandmothers Council and with their conference participants. The beauty of our Philippine indigenous roots can be shared with the world through art.